World Update
Israel begins judicial overhaul vote after Netanyahu's arrival in Knesset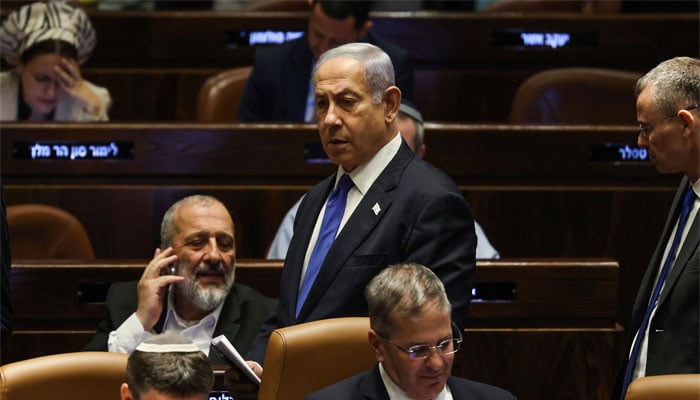 After Prime Minister Benjamin Netanyahu returned from his medical complications, the Israeli far-right government is set to move forward with judicial reform legislation on Monday in parliament that has caused countrywide protests in Israel.
Netanyahu returned to the house after pacemaker surgery while authorities outside the Knesset used water canons to hose off the protesters.
President Isaac Herzog also warned that "we are in a national emergency", as he has been mediating a compromise for half a year of weekly mass protests.
While the critics suggest that the proposed judicial overhaul may erode the country's liberal democracy by removing checks and balances on the executive, the government argues it "needs to curb judicial overreach".
The parliament's session, for a final vote on a bill that would limit judges' ability to strike down government decisions they do not consider to be "reasonable," began after the arrival of the 73-year-old prime minister.
His coalition government — which is a far-right — includes ultra-Orthodox Jewish parties who argue that the reforms are required to ensure a better balance of power.
As the crisis looked set to peak, Israel's traditional bedrock ally Washington reiterated concern about the political turmoil, with Biden urging Israeli leaders to postpone the vote.
"From the perspective of Israel's friends in the US, it looks like the current judicial reform proposal is becoming more divisive, not less," he said in a statement shared with AFP.
"It doesn't make sense for Israeli leaders to rush this — the focus should be on pulling people together and finding consensus."
Continuing efforts
Following his trip to Washington, President Herzog landed in Israel and immediately visited Netanyahu in the hospital Sunday, in a last-minute effort to reach a compromise.
Amid what he termed Israel's "national emergency," Herzog warned that "there are foundations for understandings, but gaps that demand from the sides to show responsibility still remain".
Netanyahu had said Sunday afternoon that "we're continuing our efforts to complete the legislation, and the efforts to do it in agreement" with the opposition.
Justice Minister Yariv Levin, the driving force behind the reforms, said the bill had already undergone changes to accommodate critics, but added that the ruling coalition was still open to "understandings".
"Understandings means the opposition's willingness to make concessions too," he told supporters at a Tel Aviv rally Sunday.
Opponents accuse Netanyahu — who has been accused of corruption in court — of a conflict of interest, and some protesters have labelled him the "crime minister".
"Today, the first law that will begin toppling Israel's democracy will probably pass," said Shahaf Kushinsky, 34, a high-tech worker who protested near parliament.
"That will in essence give the government unlimited power. … This is the gateway to a dictatorship and that´s why we´re here. We´re fighting for our democracy."
Greater say in judiciary if approved
If approved, the "reasonableness" clause would be the first major component of the reform package to become law.
Other proposed changes include allowing the government a greater say in the appointment of judges.
The protests have drawn support from across the political spectrum and among secular and religious groups, blue-collar and tech sector workers, peace activists, and military reservists.
The political battle over the judicial overhaul comes against a backdrop of rising Palestinian-Israeli violence.
One protester opposed to the judicial package, Tali Gal, said she was rallying against what she said were "forces of darkness".
"We are defending our democracy with our bodies," said Gal, 52, a law professor.
"The plan is to do whatever possible, to send a message to the world that we need an intervention now, any intervention, to stop this."