Pak News
Asif's sexist slurs spark fury from PTI's female lawmakers  | The Express Tribune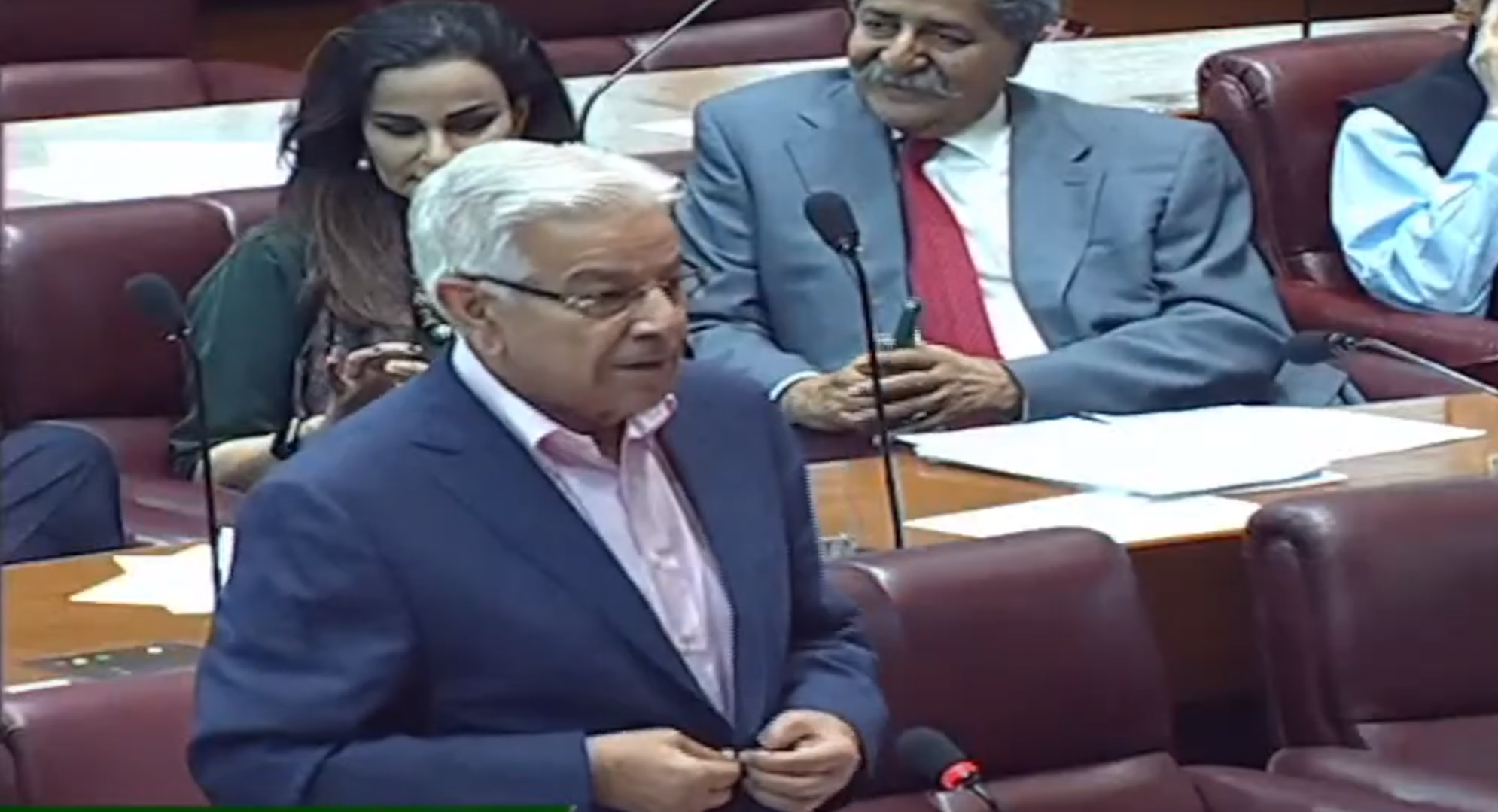 ISLAMABAD:

Defence Minister Khawaja Asif came under fire and faced severe criticism from women parliamentarians in a joint session of Parliament on Tuesday for using what they termed as sexist and derogatory remarks, leading to protests from the opposition.
He made the remarks in an address to a joint sitting of Parliament in response to criticism by parliamentarians, including Pakistan Tehreek-e-Insaf's (PTI) Senator Ali Zafar, over the handling of legislation and bills.
Referring to former PTI chief Imran Khan, Asif recalled legislative practices during the former prime minister's tenure. He then made disparaging comments that soon caused chaos in the House.
"Those with such a dark and ugly history, they are sitting here giving us lessons on virtue. There is no need for depraved women to give lectures on chastity," said the defence minister, prompting women lawmakers on the opposition benches to stand up from their seats in protest over his choice of words.
The PTI women parliamentarians objected, demanding that Asif retract his words. But the defence minister continued his address despite the protests, calling the PTI women parliamentarians the "remnants" and "ruins" of the PTI chairman.
Also read Khawaja Asif calls Firdous Ashiq Awan a 'dumper', a year after his Shireen Mazari 'tractor trolley' remarks
"These are the remnants of an individual who termed the Chief of (Army) Staff his father. Mr Speaker, these are his ruins. This is the trash he left behind. This is his garbage… which has to be cleaned," he continued after female members of the opposition shouted in severe criticism over Asif's rant.
"Listen to me! Today, he (Imran Khan) does not have the courage to appear in courts. He has left his 'burgers' to rot in jail while he hides like a rat. And these people defend him? A person who needs women to defend him, what can you say about his courage or bravery?"
The remarks continued to draw strong reactions from the PTI members, while other members from the treasury benches remained largely silent.
The protests compelled NA Speaker Raja Pervez Ashraf to repeatedly call for order in the House, while the word "garbage" was expunged from the record.
Also read Asif reminded of misogynistic past after he takes on PM
Notably, this is not the first time that Asif has faced criticism for using offensive language against women. He had faced backlash in the past for making derogatory remarks about former PTI Human Rights Minister Shireen Mazari and referring to former lawmaker Firdous Ashiq Awan as the PTI's "newly acquired dumper."
In a statement, the PTI condemned Asif's latest remarks, considering them an attempt to "depoliticise women."
"Absolutely shameful! Clearly all this is an attempt to depoliticise women in the country. Khawaja Asif and the whole PMLN are constantly targeting women of Pakistan as usual," the party stated on Twitter.
The defence minister's remarks also drew widespread criticism from both men and women on social media, with "Khawaja Asif" trending on Twitter.
In a tweet, journalist Absa Komal reminded that "This is not the first time! @KhawajaMAsif has made derogatory remarks about female politicians that too on the floor of the house."
"Filth from Khawaja Asif is nothing surprising; all he is capable of doing is spewing dirt on women," writer and columnist Mehr Tarrar wrote in a tweet, adding, "What's baffling is Sherry Rehman's silence."
Social activist Shad Begum called on the defence minister to apologise for his words. "Khawaja Asif's derogatory remarks about female politicians are disrespectful to every Pakistani woman. He should apologise publicly and avoid insulting #women," she wrote.
Human rights activists Farzana Bari strongly condemned Asif's "abhorrent remarks about PTI's women parliamentarians".
"Such misogynist mindset should be thrown out of parliament. Women across political parties should have walked out of parliament in protest. Action must be taken against him," she said.