Pak News
Chinese commercial space sector gains momentum as private firms shore up sophisticated industrial chain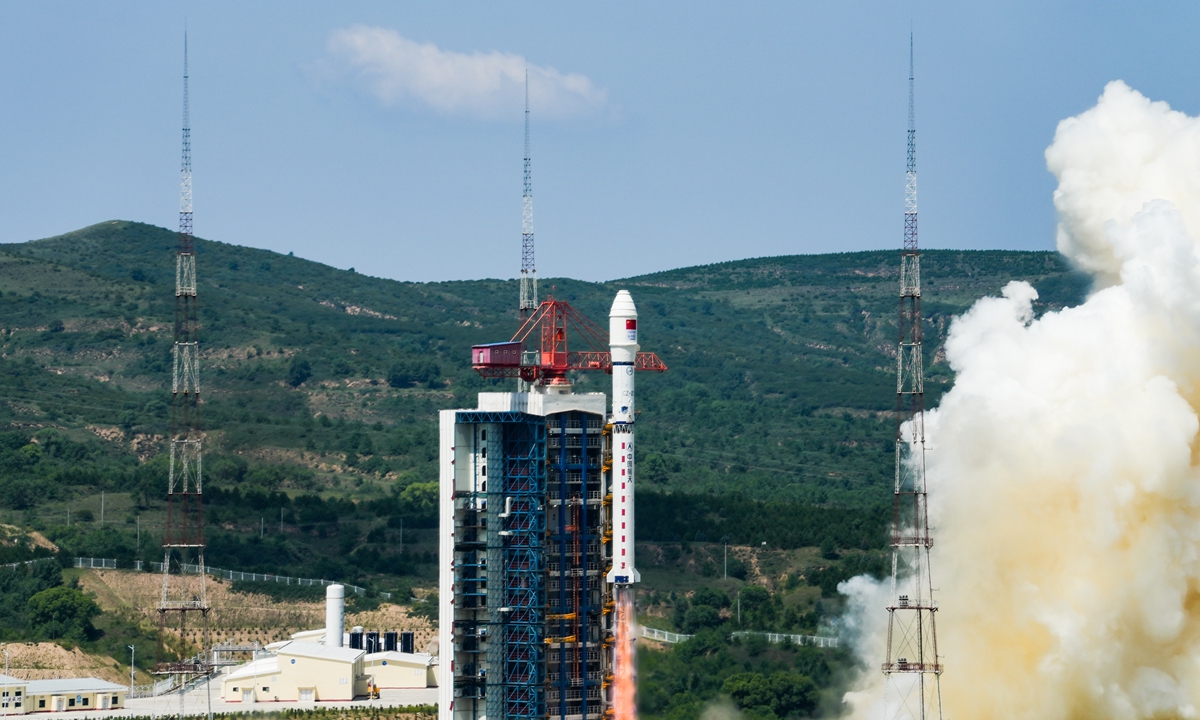 A Chinese commercial space company has successfully launched the country's first flat-panel communication satellite, Lingxi-03, with a flexible solar array into orbit on Sunday. Photo: Courtesy of Galaxy Space
China's commercial space industry has gained rising pace in development in 2023, with more private firms in the satellite and rocket sectors achieving successful launches and starting to build up their own sophisticated industrial chain.
Galaxy Space launched China's first flat-panel communication satellite with a flexible solar array into orbit on Sunday. The satellite, Lingxi-03, was launched using a Long March-2D carrier rocket at the Taiyuan Satellite Launch Center in North China's Shanxi Province.
It was China's first in-orbit verification of multi-satellite stack launch technology, providing technical support for the rapid deployment of China's large-scale, low Earth orbit communication constellation, according to a statement Galaxy Space sent to the Global Times.
Zhu Zhengxian, Galaxy Space's chief technology officer, told the Global Times that the company will expedite mass production of stackable flat-panel satellites.
The company said that the building of the satellite gave full play to the advantages of China's mature industrial system, which will support the country's push to build a new open aerospace industry ecosystem geared toward high efficiency and mass production.
Carrier rocker developer Galactic Energy launched its sixth Ceres 1 rocket on Saturday, sending two satellites into orbit. The launch kicked off its high-density delivery and launch cycle for the second half, and it was the latest effort by a Chinese private firm to expand its capabilities in rocket research and development (R&D) and launches.
The two satellites onboard the rocket included the nation's first ultra-low orbit test satellite, called Qiankun-1, which is used to verify technology breakthroughs in ultra-low orbit and build an advanced space intelligent platform, helping to fill the gap in the application of ultra-low orbit space technology.
The other satellite, developed by ADA-Space, which is based in Chengdu, capital of Southwest China's Sichuan Province, will be used for hyperspectral remote sensing.
"The launch showed that the firm has officially kicked off a high-density launch and delivery cycle for the second half," Galactic Energy said in a news release sent to the Global Times.
High-density launch is the path a rocket firm has to take for its products to mature from the lab to large-scale production.
Prior to Saturday's launch, the Beijing-based start-up had accomplished five consecutive launches after making its debut flight in November 2020 from the Jiuquan Satellite Launch Center in Northwest China.
Galactic Energy plans to conduct some launches at sea early next year, a PR representative from the firm told the Global Times.
"Consecutive successful launches by domestic private players in recent years proved their steadily growing capabilities, and they are quickly catching up with state-owned players, which have a longstanding advantage," Huang Zhicheng, a Chinese expert in aerospace science and technology, told the Global Times.
"They are even surpassing state-owned players in certain areas," Huang added.
Earlier this month, another private rocket firm – LandSpace – launched the world's first liquid oxygen, liquid methane carrier rocket from Jiuquan. The launch put China in the front of the global space race for methane-based rockets.
In the view of LandSpace CEO Zhang Changwu, private firms act as an effective supplementary force to state-owned players in building up the nation's commercial aerospace prowess.
"Private firms have the responsibility to carve out a new path and build up competitiveness," Zhang told the Global Times in a group interview.
Creating less pollution and delivering better safety outcomes at a lower cost, methane-liquid rockets are viewed as a suitable propellant for reusable rockets, which multiple rocket firms are aiming for.
After passing the threshold for orbital launches, the next battleground is reusable rockets, Huang said.
For example, Galactic Energy is developing the Pallas 1, a larger, reusable liquid-propellant rocket model. LandSpace is developing reusable launch vehicles, which will likely take a test flight in the second half of 2025.
The private commercial space sector, including rockets and satellites, is being buoyed by favorable polices, ample capital support and competitive tech fundamentals, and its prospects are attractive, according to Huang.
China unveiled commercial space projects, including an ultra-low orbit satellite constellation and Tianlong-3 large liquid-propellant carrier rocket, at the recent 9th China (International) Commercial Aerospace Forum held in Wuhan, capital of Central China's Hubei Province earlier this month.
In China, the environment for commercial aerospace development continues to improve. It is gradually shifting from a mode dominated by basic manufacturing and product R&D to a new stage driven by market and applications, Yuan Jie, chief executive officer of the China Aerospace Science and Industry Corp, said at the forum.
The scale of China's commercial space market has surged since 2015 with an expected annual growth rate above 20 percent from 2017 to 2024. It is estimated that the market will reach 2.34 trillion yuan ($326 billion) in 2024, according to market research firm iiMedia Research.