World Update
Greece fires force more evacuations from Rhodes and other islands as a new heat wave bears down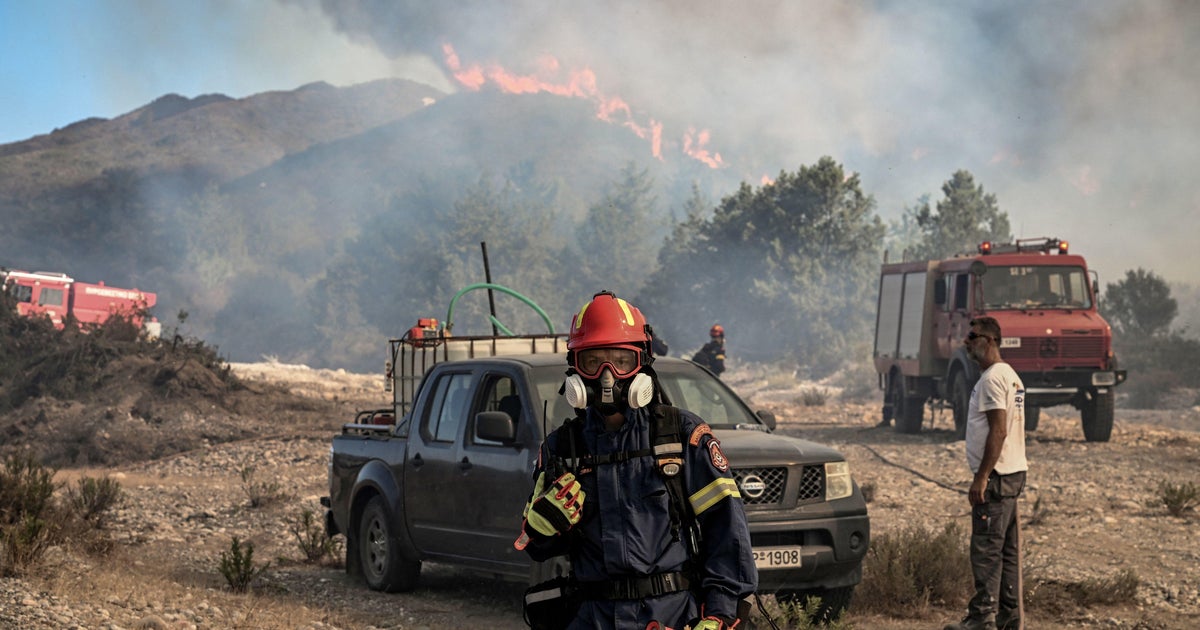 Rhodes, Greece — A third successive heat wave in Greece pushed temperatures back above 104 degrees across parts of the country Tuesday following more nighttime evacuations from fires that have raged out of control for days. The latest evacuations orders were issued on the islands of Corfu and Evia, while a blaze on the island of Rhodes continued to move inland, torching mountainous forest areas, including part of a nature reserve.
Desperate residents, many with wet towels around their necks to stave off the scorching heat, used shovels to beat back flames approaching their homes, while firefighting planes and helicopters resumed water drops at first light.
Record number of evacuations
Authorities said that more than 20,000 people has been involved in successive evacuations on the island, mostly tourists over the weekend, when fire swept through two coastal areas on the southeast of Rhodes.
The European Union has sent 500 firefighters, 100 vehicles and seven planes from 10 member states, while Turkey, Israel, Egypt and other countries have also sent help.
"For the 12th day, under extreme conditions of heat and strong winds, we are fighting nonstop on dozens of forest fire fronts … The Greek Fire Service has battled more than 500 fires — more than 50 a day," said Vassilis Kikilias, the minister for climate crisis and civil protection.
"We are at war and are exclusively geared towards the fire front," Greece's Prime Minister Kyriakos Mitsotakis told lawmakers Monday, warning that the country faced "another three difficult days ahead" before high temperatures were forecast to ease.
"All of us are standing guard," he told his cabinet on Tuesday. "I will state the obvious: in the face of what the entire planet is facing, especially the Mediterranean which is a climate change hot-spot, there is no magical defense mechanism. If there was, we would have implemented it."
Many regions of Greece remained on "red alert," meaning there was an extreme risk of dangerous forest fires exacerbated by strong winds.
Heat wave after heat wave
In Athens, authorities resumed afternoon closing hours Tuesday at the ancient Acropolis as part of broader measures to cope with the high heat as Greece braced for a new wave of soaring temperatures.
In the capital city of Athens the mercury was expected to soar to 106 degrees, and up to 111 in central Greece, according to the national weather forecaster EMY.
The mercury hit 116 degrees in Gythio, in the southern Peloponnese peninsula on Sunday, just short of the hottest temperature ever recorded nationally at 118.
EU officials have blamed climate change for the increasing frequency and intensity of wildfires across the European continent, noting that 2022 was the second-worst year for wildfire damage on record after 2017.
The severe heat in Greece has been reflected across much of southern Europe and Northern Africa. In Algeria at least 34 people have died as wildfires raged through residential areas, forcing mass evacuations.
In southeastern France officials Monday issued a fire warning at the highest level in the Bouches-du-Rhone region, warning that the weather conditions make the risk of flames "very high compared to normal summers."
Scientists from the World Weather Attribution group said Tuesday that the heat waves that have hit parts of Europe and North America this month would have been almost impossible without human-caused climate change.