Pak News
Indian woman reaches Pakistan to meet 'Facebook friend' | The Express Tribune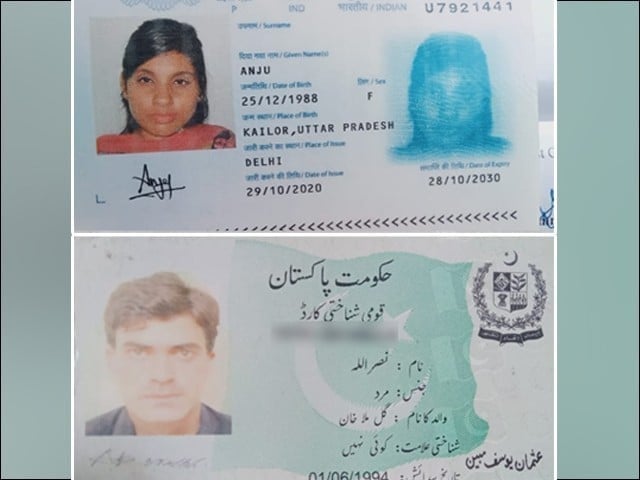 A heartfelt love story that transcends borders has captured the attention of the public in Pakistan and India after a woman from the neighbouring country reached Khyber-Pakhtunkhwa's Upper Dir to meet a man she had connected with on social media
Talking to BBC Urdu, 29-year-old Nasrullah shared that he met Anju on Facebook and their relationship gradually evolved from friendship to love. He emphasised that they cherish their privacy and wish to keep their personal lives away from media scrutiny
The couple plans to get engaged in the next two to three days and then, after a gap of 10 to 12 days, Anju, who hails from Upper Pradesh state and works at a private firm, will return to India. Following that, they intend to reunite in Pakistan for their wedding.
Nasrullah acknowledged that the visa process was challenging, but their determination and sincerity prevailed. District Police Officer (DPO) Upper Dir Mohammad Mushtaq has also confirmed the presence of an Indian citizen in the area, saying that Anju was currently residing at Nasrullah's residence.
Read more: PUBG love story: Husband of Pakistani woman in India wants his children back
This story bears resemblance to the recent case of Seema Ghulam Haider, 27, and Sachin Meena, 22, who met through the popular online game PUBG.
Seema entered India illegally in May, along with her four young children, and they had been staying with Sachin in Greater Noida, Uttar Pradesh, for over a month, according to the police
Nasrullah stated that Anju has taken leave from his company in India and came to Pakistan, and after returning, she will continue her job.
He mentioned that Anju is currently at his residence, where she is "completely at ease and living comfortably". However, after the news of her arrival in Pakistan became public, she is not happy with the presence of the media.
"A large number of media personnel and other people have gathered. I will personally inform the media about anything that needs to be told. I do not want our relationship to be made into an issue. Religion is not involved in our relationship. Whether Anju changes her religion or not, it will be her own decision, and I will respect her choice just as she respects mine," he added.
Nasrullah said that Anju's family also has no issue with their relationship. "That is why I request that our privacy should be respected. Our relationship and life should not be made a spectacle in any way. We do not want that at all."
DPO Mushtaq has officially confirmed that Anju's visa documents underwent thorough police scrutiny, and they have been verified to be entirely accurate.
He informed that the Indian woman has been given a one-month visa, and she has also been granted permission to enter Upper Dir.
He stated that Nasrullah and Anju had been requested to visit the local police station on Sunday evening. "This official interview is conducted for all foreign nationals, and after talking to them and conducting the interview, they will be granted permission to return," he added.
Mushtaq further assured that the police would extend complete security to Anju, ensuring her privacy is meticulously safeguarded.