Politics
Longtime Biden ally was prosecutor in US Attorney Weiss' office during Hunter probe, called him 'a brother'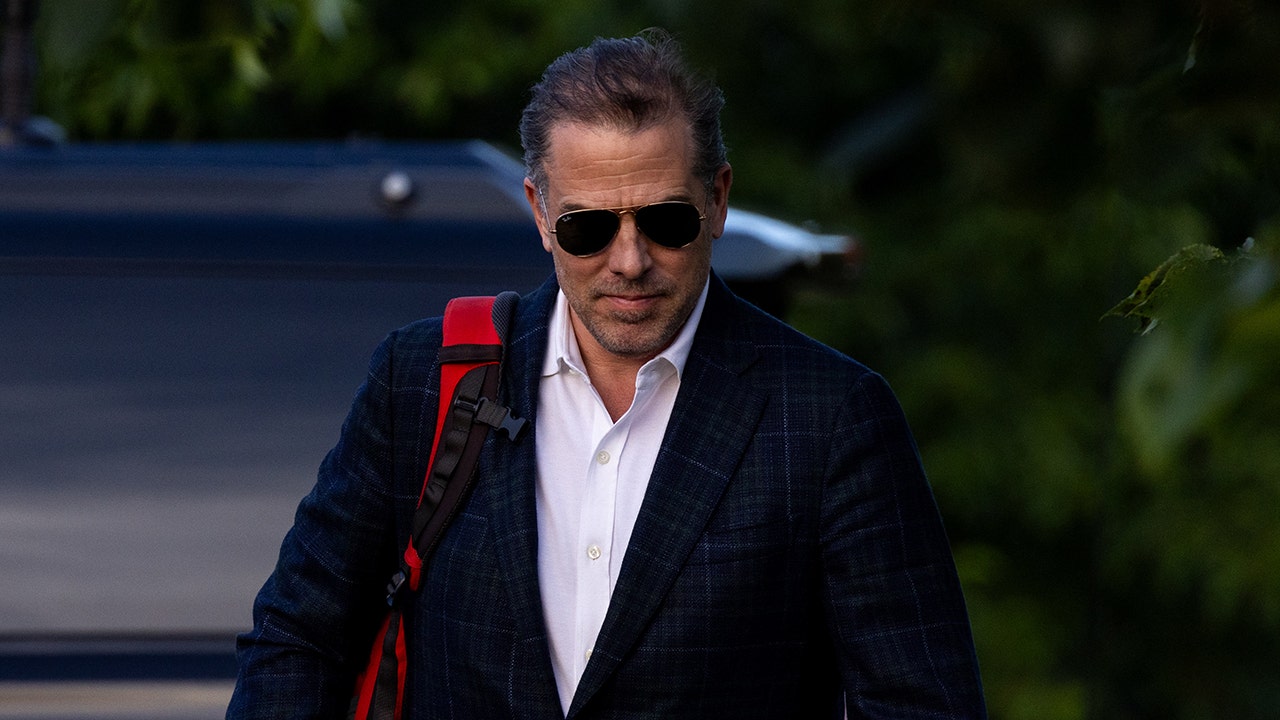 A longtime friend and ally of Hunter Biden and the Biden family served as a prosecutor in the Delaware U.S. Attorney's office when that office led the federal investigation into Hunter Biden and has visited the White House at least five times during the Biden administration, a Fox News Digital investigation has found.
Alexander Snyder Mackler, a former legal counsel to Joe Biden when he was vice president and a prior campaign manager in 2010, served as an assistant United States attorney in the Delaware U.S. Attorney's office under David Weiss from August 2016 to May 2019. During that time, Weiss was leading the federal investigation into Hunter Biden for tax fraud and illegal foreign business dealings. 
According to emails from Hunter's abandoned laptop, which were reviewed and verified by Fox News Digital, Mackler and Hunter Biden remained in close contact, with Mackler once signing off an email saying, "Love you brother." 
It's unclear what, if any, role Mackler played in the probe. Even if Mackler played no role in the Hunter Biden investigation, his professional closeness with Weiss' team is sure to lead to conflict of interest questions from Republicans on Capitol Hill. Fox News Digital has reached out to Weiss and Mackler for comment.  
BIDEN'S NARRATIVE ON NEVER DISCUSSING BUSINESS DEALS WITH HUNTER CONTINUES TO CRUMBLE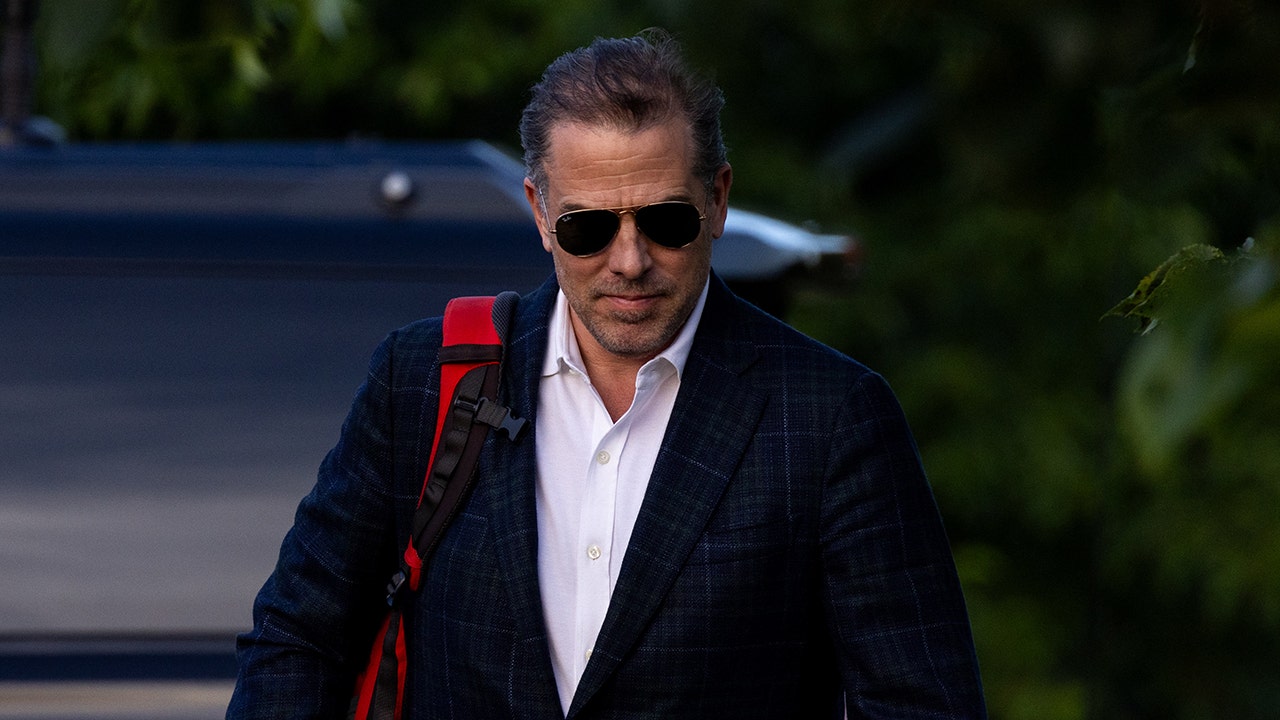 Hunter Biden had been under federal investigation since 2018. That investigation into his "tax affairs" began amid the discovery of suspicious activity reports (SARs) regarding funds from "China and other foreign nations." 
Mackler, who also worked for Joe Biden in 2008 as his press secretary during his time in the U.S. Senate, previously told The Washington Times he did not know about the case when he was a federal prosecutor and only learned about it with the rest of the world through Hunter Biden's press statement Dec. 9, 2020, which came a month after his father's presidential win.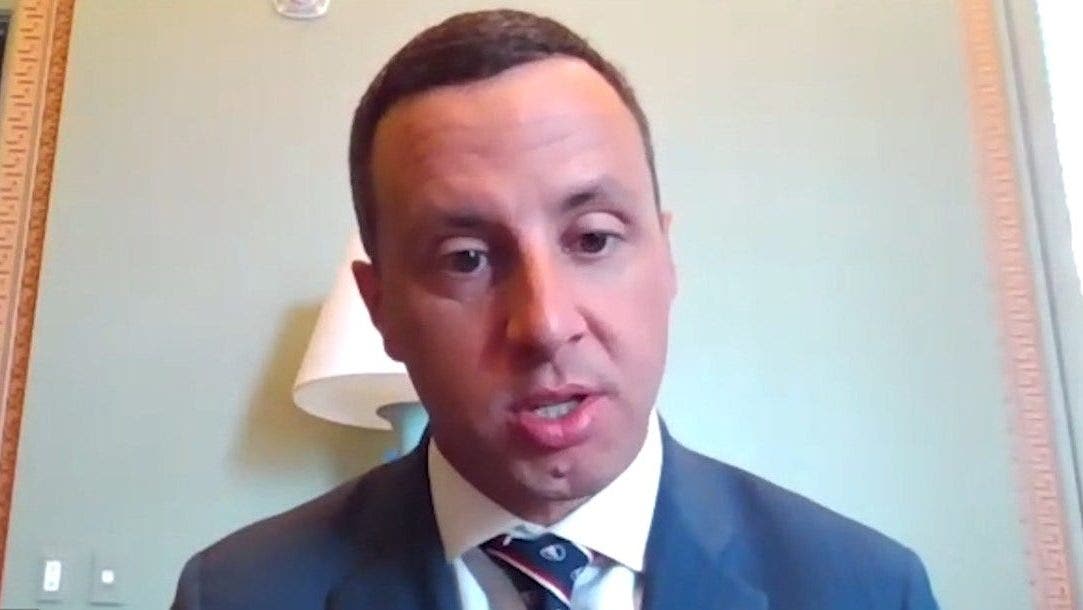 Last month, Biden agreed to a deal with the Justice Department to plead guilty to two misdemeanor counts of willful failure to pay federal income tax and entered a pretrial diversion agreement regarding a separate charge of possession of a firearm by a person who is an unlawful user of or addicted to a controlled substance.
WHO IS DAVID WEISS? HUNTER BIDEN PROSECUTOR COMES UNDER MICROSCOPE AFTER CONTROVERSIAL PLEA DEAL
Mackler has been the Deputy Attorney General of Delaware since May 2019, according to his LinkedIn profile. 
According to visitor logs reviewed by Fox News Digital, he visited the White House five times last year, including a one-on-one meeting with President Biden.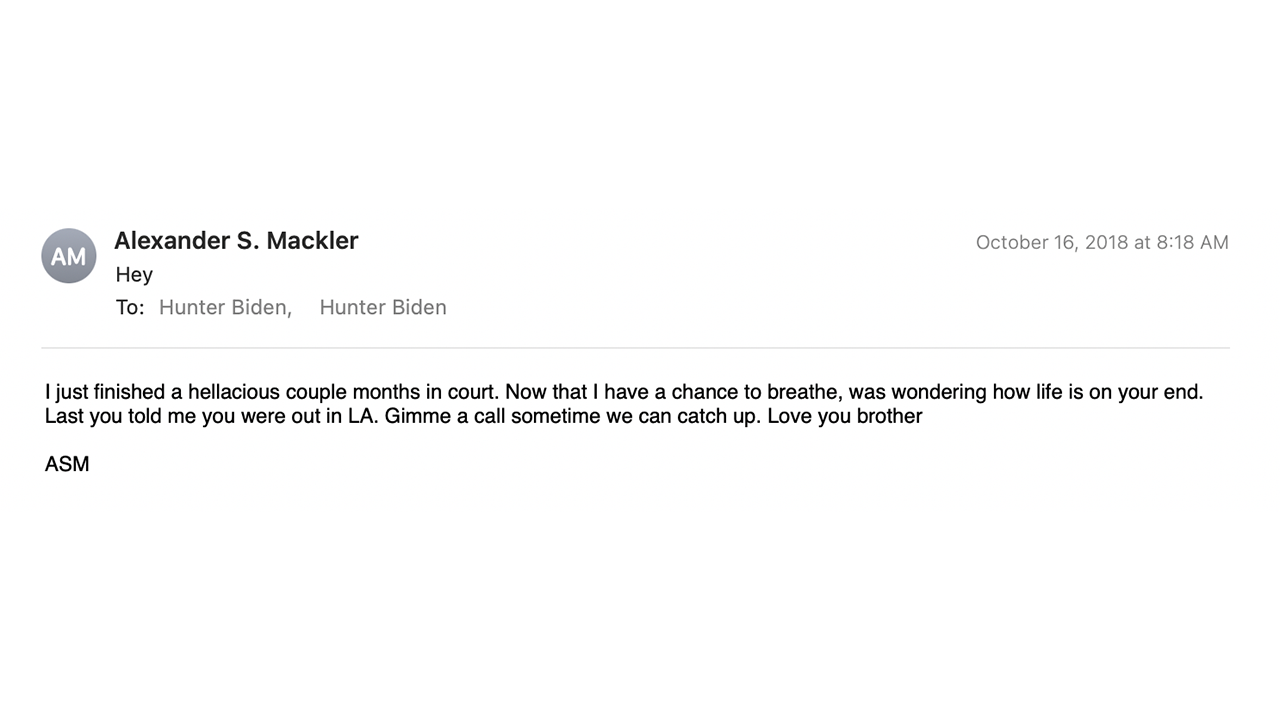 On March 28, 2022, Mackler met with White House counsel Steve Ricchetti for a one-on-one meeting. On April 11, he met with President Biden in a one-on-one meeting. On Aug. 28, he met with Biden's 2024 campaign manager, Julie Rodriguez, who was also serving as Biden's senior adviser, for a one-on-one meeting. And on Sept. 21, he met one on one with Claudia Marconi, senior adviser for congressional engagement. Mackler also attended a White House event in December. 
Fox News Digital reviewed emails and text messages that reveal Mackler has maintained relatively frequent contact with the younger Biden for many years. 
In a text message dated March 10, 2019, well after the federal investigation was underway, Mackler texted Hunter Biden, saying he was "in the car for a long drive" and "just wanted to say hi."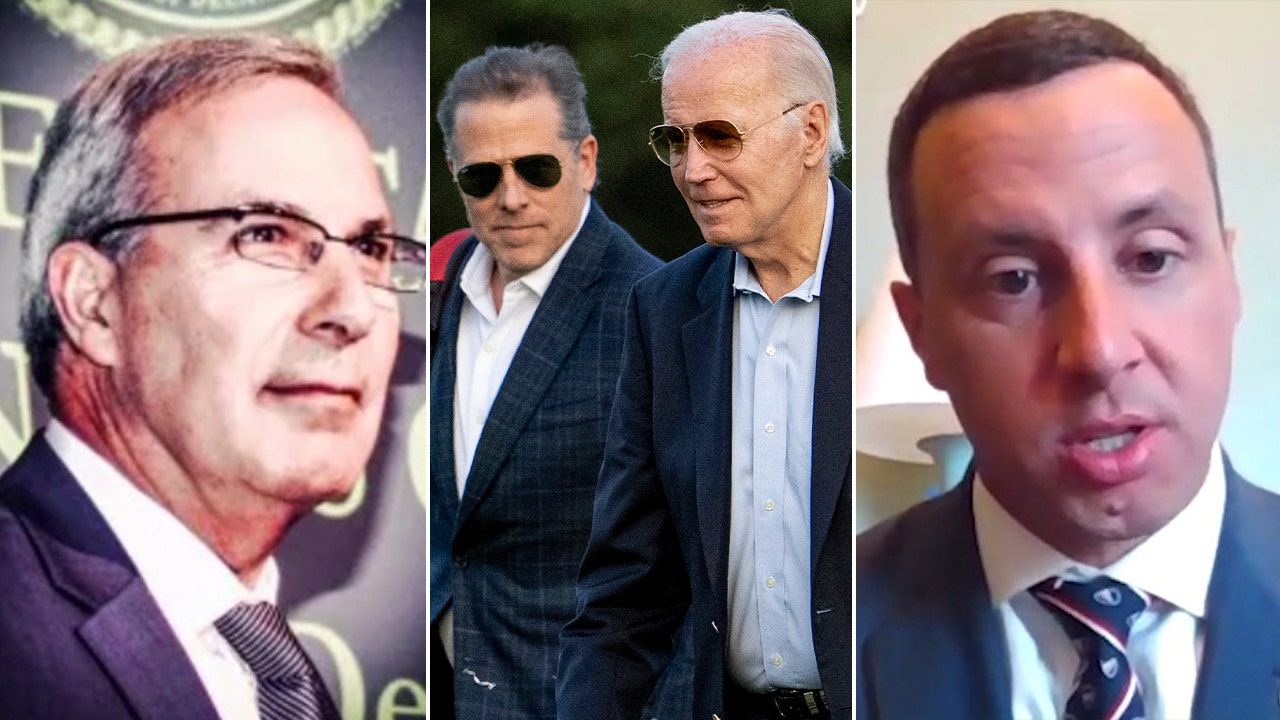 HUNTER BIDEN REVEALED LONGTIME BUSINESS PARTNER WAS VP BIDEN'S 'CLOSE CONFIDANT AND COUNSEL' IN 2014 EMAIL
On Oct. 16, 2018, Mackler emailed Biden "wondering how life is on [his] end" before signing off, "Love you brother." 
Two years earlier, in August 2016, when he first started working under Weiss, Mackler emailed Hunter Biden and Eric Schwerin, president of Hunter Biden's now-dissolved Rosemont Seneca Partners, boasting about his "first day at the new job," according to an Aug. 22, 2016, email.
One week later, Mackler gave his two cents on a drafted statement regarding the launch of the Biden Institute at the University of Delaware, writing to Hunter Biden and others, "Looks good to me."
HUNTER BIDEN RIPPED BILL CLINTON AS 'A–HOLE' WHO 'LOOKS LIKE S—,' SAID CLINTON AIDES ARE 'GREEDY': EMAILS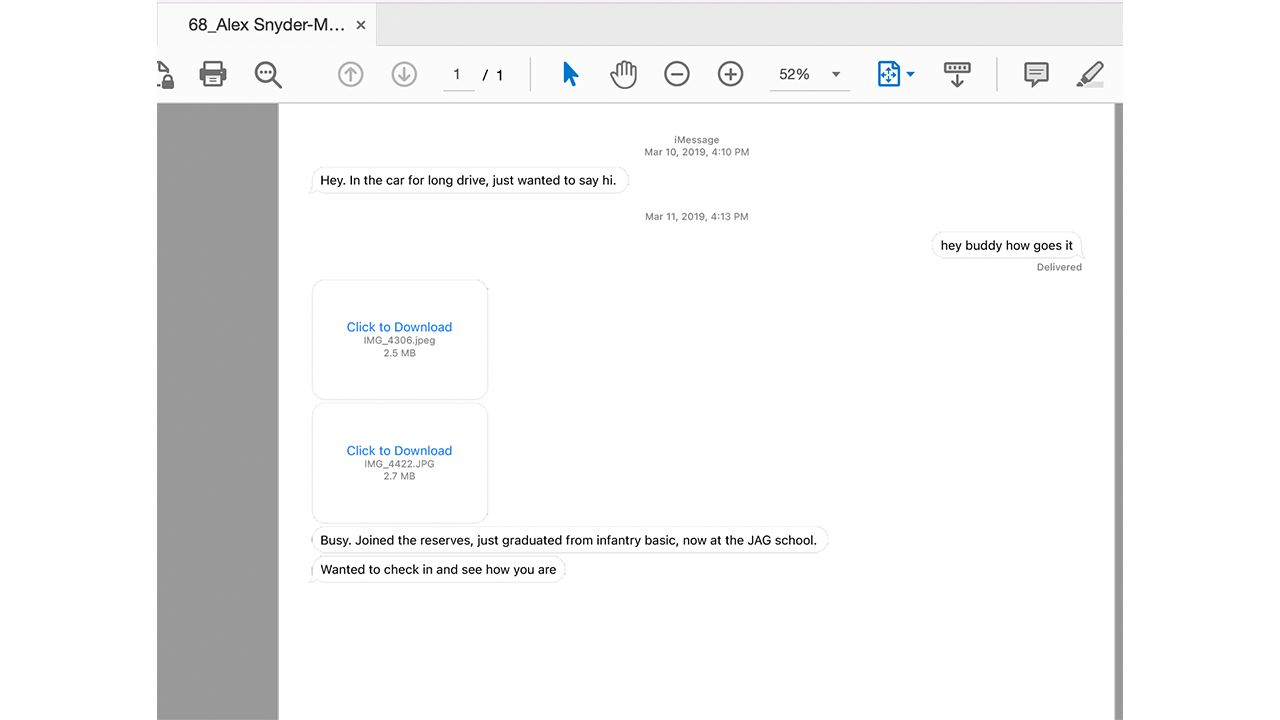 Mackler also frequently vented to Hunter Biden and Schwerin following Hillary Clinton's upset defeat to former President Donald Trump later that November. 
"I'm trying very hard to take solace in the fact that more people in this country feel like us than like Trump's people," Mackler said.
"It's hard," he wrote to Hunter Biden and Schwerin Nov. 9, 2016, one day after the election.
The next day, he wrote to Hunter Biden and Schwerin, "I truly hope he picks all these clowns," referring to Trump's potential cabinet picks at the time, including former Housing and Urban Development Secretary Ben Carson.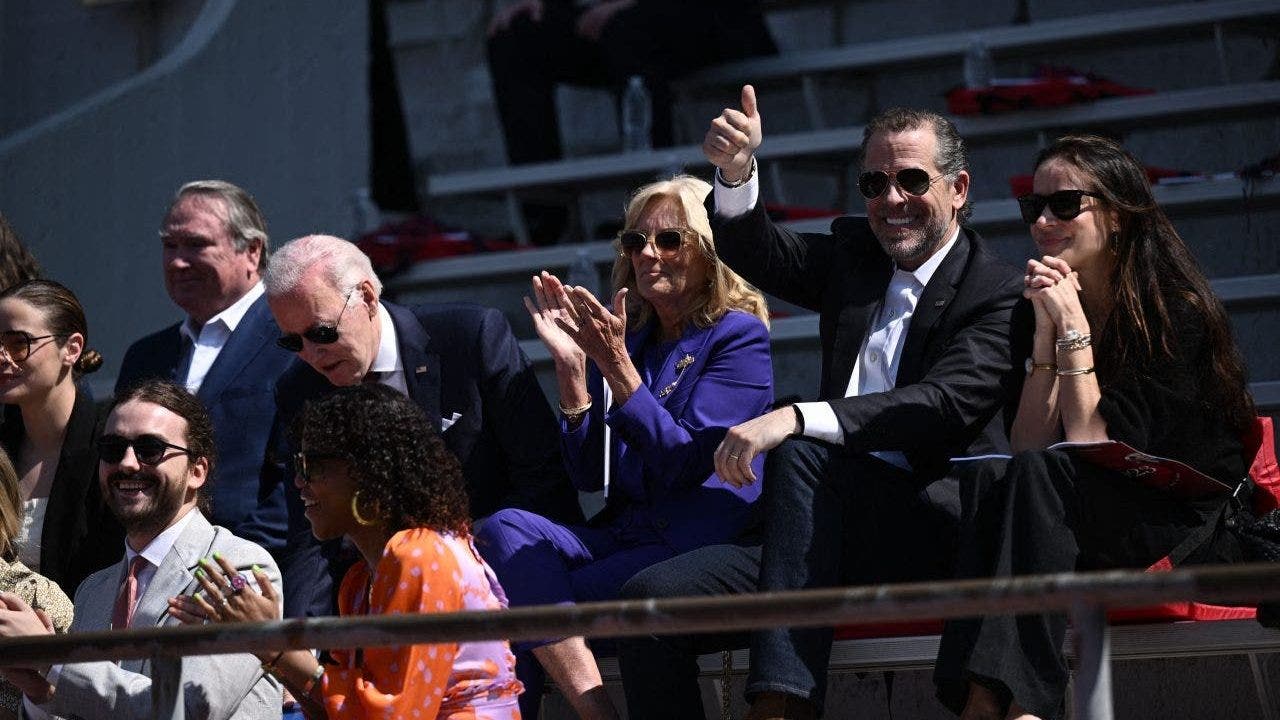 A few days later, he blasted the Democrats backing Hillary Clinton at the time as "pompous … a–holes."
Six months later, Mackler was still perceivably upset about the election after Schwerin shared a story about David Axelrod, who had criticized Clinton for blaming her loss on virtually everything but her own campaign.
"I'm old enough to remember when he took a whole afternoon of JRB's [Joseph Robinette Biden] time in the West Wing, arguing that he needed to get out of HRC's [Hillary Rodham Clinton] way because she was the better candidate and would win," Mackler fumed.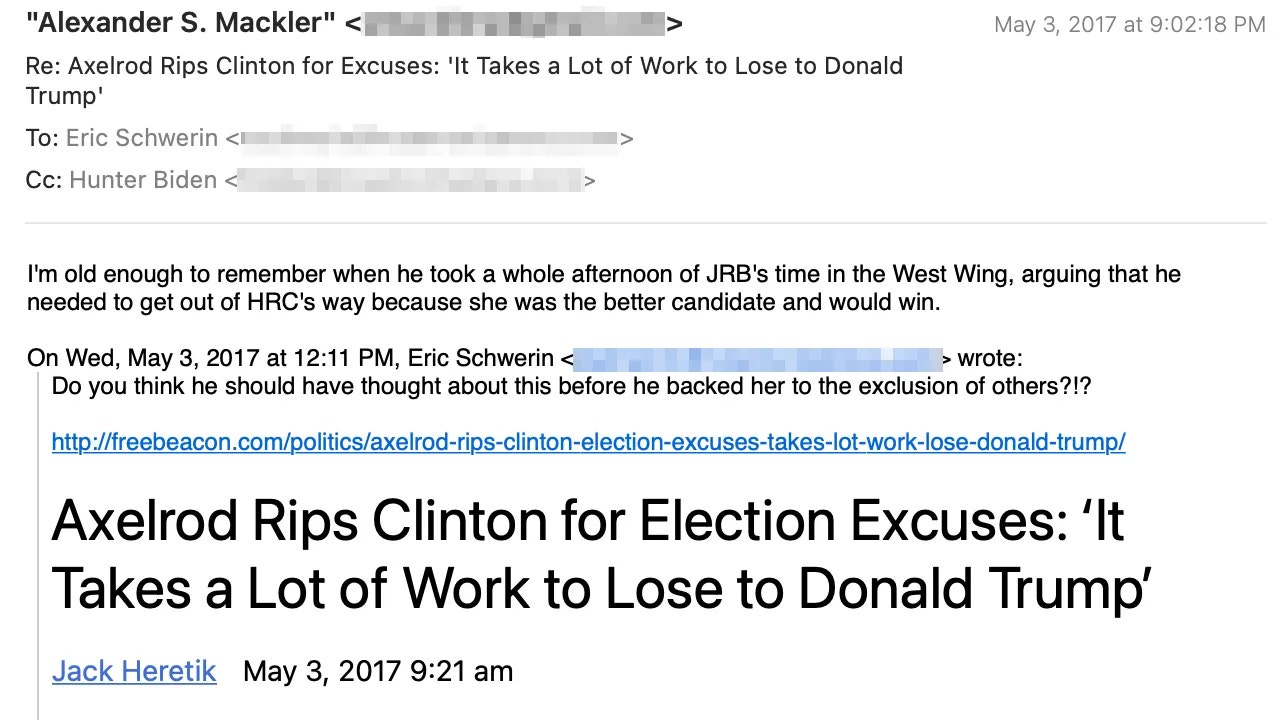 Weiss has repeatedly denied claims by two IRS whistleblowers who alleged officials at the Justice Department, FBI and IRS interfered with Weiss' five-year investigation into President Biden's son.
The House Oversight Committee, House Judiciary Committee and House Ways and Means Committee are conducting a joint investigation into the federal probe into Hunter Biden and whether prosecutorial decisions were influenced by politics.
Attorney General Merrick Garland said in June that Weiss, who was nominated by President Donald Trump in November 2017, "was given complete authority" in the prosecutorial decisions concerning Hunter Biden.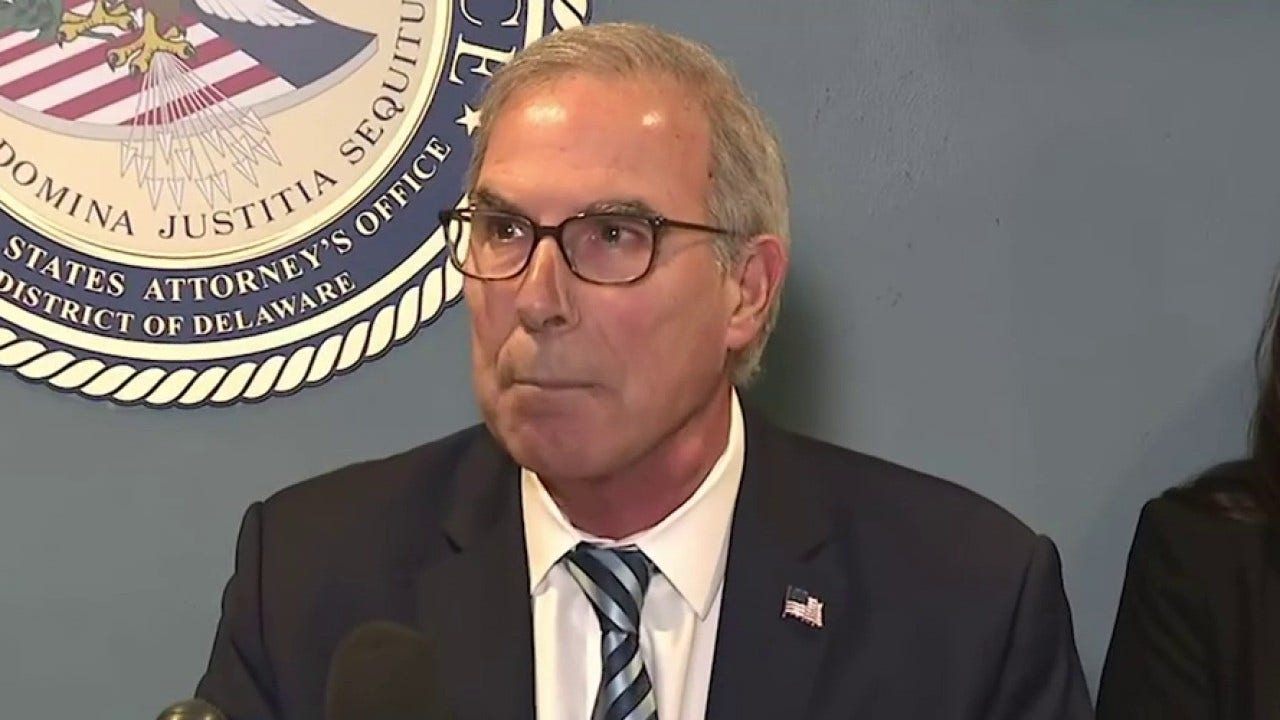 In June, House Republicans demanded testimony from Weiss and more than a dozen federal officials, including Assistant U.S. Attorney Lesley Wolf, who allegedly blocked lines of questioning in the investigation related to President Biden.
CLICK HERE TO GET THE FOX NEWS APP
A source close to the Delaware Biden probe told the Daily Mail this month that Mackler worked with Wolf on at least one Delaware federal case and that the two were friends. 
"The source said there were concerns about Wolf's ties to the ex-Biden advisor while she was investigating Hunter and that their collegiate relationship was even allegedly referred to the 'Designated Agency Ethics Officer' for Weiss's office," the Daily Mail reported July 14.