World
New Witness Of Malcolm X's Assassination Comes Forward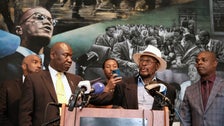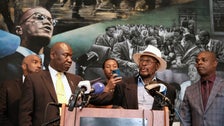 A man claiming to work for Malcolm X's security detail the day of his assassination spoke publicly about the activist's death for the first time at a press conference on Tuesday.
The civil rights leader was shot more than a dozen times while delivering a speech at the Audubon Ballroom in New York City on Feb. 21, 1965. Mustafa Hassan, who spoke at the press conference hosted by civil rights attorney Ben Crump, claims that what he saw and heard that day substantiates the theory that the FBI and the NYPD were involved in the civil rights leader's killing.
Following the assassination, three men were charged and convicted in connection to the civil rights leader's death. Mujahid Abdul Halim, also known as Talmadge Hayer or Thomas Hagan, confessed to the killing. He has maintained that the two people convicted of the killing — Muhammad Aziz and Khalil Islam ― were not involved.
Hassan claimed in an affidavit signed last month that he stopped Hagan from escaping after the shooting despite what he believes was an attempt from the authorities to allow him to flee the scene.
"I would later see [Hagan] outside as he was being beaten by Malcolm's followers while a group of policemen, who suddenly showed up on the scene asking 'is he with us' while at the same time holding back Malcolm's followers from beating him," Hassan said at the press conference.
"They were prepared to let him go, that's my perspective," Hassan added.
Stock footage and photographs provided to HuffPost show Hassan, now 84, at the scene of Malcolm X's killing.
Hassan, who was also a member of Malcolm X's Organization of Afro-American Unity, said he was never approached or interviewed by the authorities and that he and his family fled the country following the assassination fearing death.
Crump plans to pursue further legal action in the coming months given Hassan's claims.
"When police first ran up to the person who has just shot Malcolm X, are they trying to stop him? No. What they are saying, [is], 'Is he with us,' because they don't know if their person was assigned to shoot Malcolm or not," Crump said on Tuesday.
One of Malcolm X's daughters, Ilyasah Shabazz, also spoke at the press conference.
"What history has recorded is inaccurate. So we want the truth to be known, we want the history books to reflect that truth, and we would like justice to be served," Shabazz said.