Business
Unilever: Marmite maker's profits soar as regulator looks for evidence of grocery greed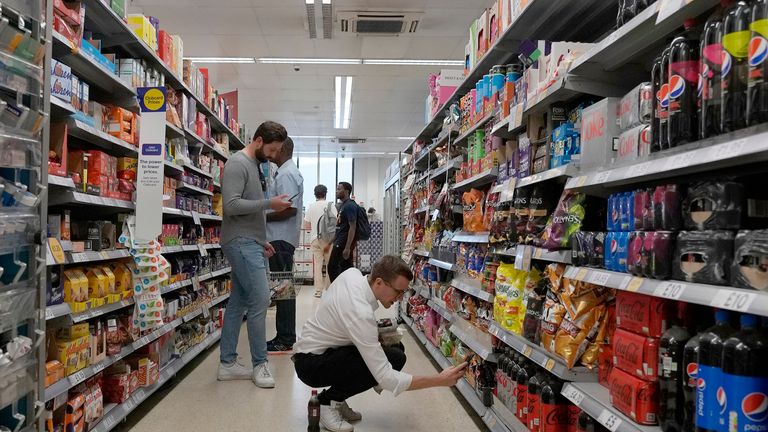 The company behind many popular consumer brands including Marmite and Magnum ice creams has revealed a surge in profits, as the UK's competition regulator seeks evidence on whether shoppers are getting a raw deal at the tills.
Unilever, which also includes brands such as Domestos and Hellmann's in its stable, reported a 20% rise in net profits to €3.9bn (£3.4bn) over the first half of its financial year.
Underlying price growth for the second quarter was 9.4%, while underlying sales volumes fell by 0.2%, the company said.
It reported on its progress just days after the Competition and Markets Authority (CMA) cleared supermarkets of making excessive profits.
But the regulator said last week it had turned its attention to the supply chain instead, which would include companies such as Unilever.
Food and other producers have been raising prices largely since the end of the COVID pandemic, with leaps in costs largely reflecting higher energy, transport and commodity prices linked to Russia's invasion of Ukraine.
The question the CMA will be asking is whether suppliers to supermarkets have raised their prices too much, leading to excessive margins at the expense of consumers amid the wider cost of living crisis.
CMA chief executive on food inflation

Unilever's underlying operating margin stood at 17.1%, it reported.
There have been several rows between supermarkets and branded goods firms in recent times, with chains refusing to stock some items temporarily over the prices they were being asked to swallow.
This included a very public spat between Tesco and Heinz last year.
Shoppers have responded to the leap in food inflation by buying supermarket own brands, which tend to be cheaper, as an alternative.
Read more:
Supermarkets never had a question to answer on profiteering – but their suppliers do
This trend is realised by the fall in sales volumes reported by Unilever, though it reported rising sales by value in each of its main business groups including nutrition and ice cream.
'So hard' for shoppers to tell what is a good deal

The business forecast that underlying sales growth for the full year would moderate to above 5%.
It had warned earlier this year that its prices would rise again in the first half, reflecting rising input costs, but it expected stability for the rest of the year.
That position was reaffirmed by the company on Tuesday in its first update to the City since Alan Jope was succeeded as chief executive by Hein Schumacher earlier this month.
Chief financial officer Graeme Pitkethly said: "We're past peak inflation now, but there will continue to be a high level of pricing growth within our reported numbers.
"The majority of pricing you'll see is carry forward pricing as we roll through the quarters."
Shares rose by 5% at the open.
Charlie Huggins, portfolio manager at Wealth Club, said the results were "solid but uninspiring", adding that investors would want to see a higher margin.
"The question is – should Unilever be doing better? The answer is almost certainly yes.
"Margins remain well below pre-pandemic levels and below the bonnet of that robust underlying sales growth there are problems.
"Only 41% of Unilever's business is winning market share which means more than half the portfolio is losing out to competitors and performance in Europe is exceptionally poor, with volumes falling 10% in the second quarter."