Pak News
Nawaz aides mediate party differences | The Express Tribune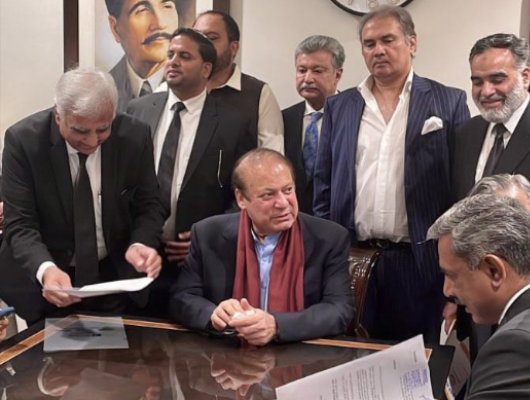 LAHORE:

Former prime minister Nawaz Sharif assigned two of his close aides on Monday to act swiftly to reconcile the differences among the party leadership in Sindh and Khyber-Pakhtunkhwa (K-P), before his visits to those provinces as part of his efforts to bring the 'electables' to the party fold.
According to an Express News report, the Pakistan Muslim League-Nawaz (PML-N) supremo took notice of the differences among the party leaders from K-P. He had made his visit to those provinces conditional to the end of those differences.
"Nawaz Sharif has decided not to visit the two provinces until the party's provincial organisations are fully united," the report said, adding that he had assigned the task of ending the differences in Sindh to Provincial President Bashir Memon, while Captain (retd) Safdar would contact K-P leaders.
In this regard, the report said that both Memon and Safdar had established contacts with disgruntled leaders of the party. It added that Safdar had also contacted the 'electables' in K-P for their joining the PML-N for the upcoming general elections.
Read also: No proposal under consideration to alter 18th amendment: Marriyum
Currently, the PML-N is working on the party's manifesto for the February 8, 2024 general elections. Party's Central Information Secretary Marriyum Aurangzeb underscores the party's commitment to building a robust Pakistan.
Aurangzeb categorically dismissed media reports suggesting alterations to the 18th Amendment to the Constitution, stressed that the PML-N intended to augment the resources of all federating units, including the central government.
The 18th Amendment was unanimously approved by all political parties during the Pakistan Peoples Party's 2008-13 government." The constitutional amendments focused on reinstating the spirit of the [1973] Constitution, prioritising national interest over political considerations," she said in a tweet.
Emphasising the importance of a fair distribution of resources as per the Constitution between the federation and its units, Aurangzeb said that the PMLN underscored its commitment to building a robust Pakistan, fortifying democracy by implementing and enhancing the effectiveness of the local bodies.