Health
US Supreme Court preserves broad access to abortion pill | The Express Tribune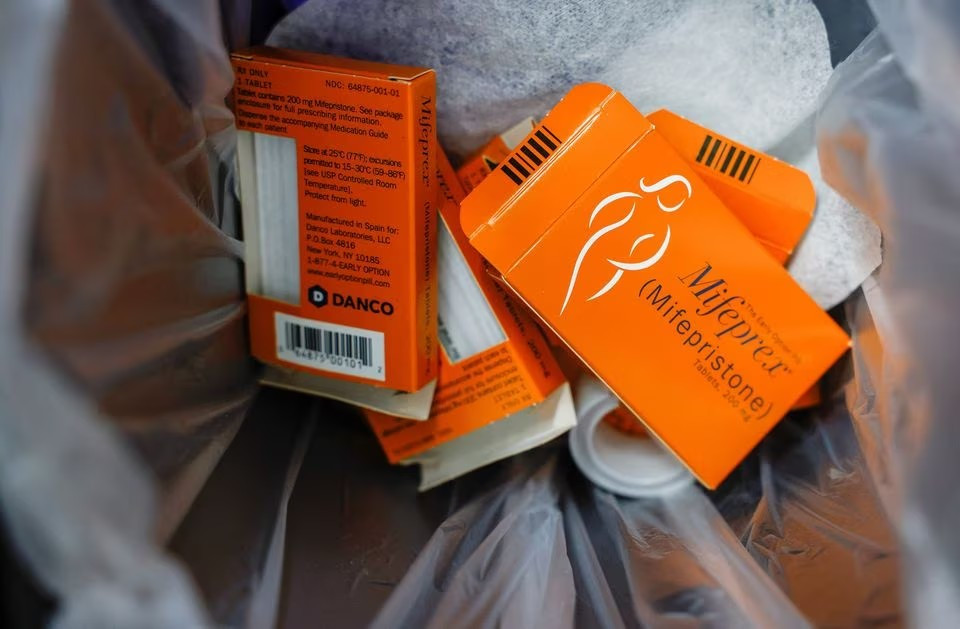 The US Supreme Court on Friday blocked new restrictions set by lower courts on a widely used abortion pill, a decision welcomed by President Joe Biden as his administration defends broad access to the drug in the latest fierce legal battle over reproductive rights in the United States.
The justices, in a brief order, granted emergency requests by the Justice Department and the pill's manufacturer Danco Laboratories to put on hold an April 7 preliminary injunction issued by US District Judge Matthew Kacsmaryk in Texas. The judge's order would have greatly limited the availability of mifepristone while litigation proceeds in a challenge by anti-abortion groups to the pill's federal regulatory approval.
"As a result of the Supreme Court's stay, mifepristone remains available and approved for safe and effective use while we continue this fight in the courts," Biden said in a statement issued by the White House.
"The stakes could not be higher for women across America. I will continue to fight politically driven attacks on women's health," Biden added.
Conservative Justices Clarence Thomas and Samuel Alito publicly dissented from the decision. Alito, in a brief opinion, wrote that the administration and Danco did not show that they were likely to suffer "irreparable harm."
Biden's administration is seeking to defend mifepristone in the face of mounting abortion bans and restrictions enacted by Republican-led states since the Supreme Court in June 2022 overturned the landmark 1973 Roe v. Wade decision that had legalised the procedure nationwide. Alito authored that ruling.
The current case now returns to the New Orleans-based 5th US Circuit Court of Appeals, which is set to hear arguments on May 17. The losing side after the 5th Circuit rules could appeal the case back to the Supreme Court.
The Food and Drug Administration (FDA), the US agency that signs off on the safety of food products, drugs and medical devices, approved mifepristone in 2000. The challengers contend that the FDA illegally approved mifepristone and then removed critical safeguards on what they call a dangerous drug.
Read more: Wyoming governor signs law outlawing use of abortion pills
Mifepristone is taken with another drug called misoprostol to perform medication abortion, which accounts for more than half of all US abortions. The drug has other uses including management of miscarriages.
Erik Baptist, an attorney for the conservative religious rights group Alliance Defending Freedom representing the pill's challengers, said, "Our case seeking to put women's health above politics continues on an expedited basis in the lower courts."
The case could undercut federal regulatory authority over drug safety.
"I continue to stand by FDA's evidence-based approval of mifepristone, and my administration will continue to defend FDA's independent, expert authority to review, approve and regulate a wide range of prescription drugs," Biden said.
An attorney for Danco, Jessica Ellsworth, said the Supreme Court's decision "preserves crucial access to a drug relied on by millions of patients" after lower courts had caused "widespread chaos."
The 5th Circuit on April 12 declined to block the curbs ordered by Kacsmaryk but did halt a part of the judge's order that would have suspended FDA approval of mifepristone and effectively pulled it off the market.
The Supreme Court acted just hours before its self-imposed deadline of 11:59 p.m. EDT on Friday (0359 GMT on Saturday) before Kacsmaryk's mifepristone restrictions would have taken effect. Alito, who handles emergency matters arising from a group of states including Texas, last week issued a temporary pause of Kacsmaryk's injunction until Wednesday and then extended it two more days.
A former Christian legal activist appointed to the bench by former President Donald Trump, Kacsmaryk had a long track record of opposing abortion before the US Senate confirmed him in 2019 to a life-tenured position as a federal judge.
A challenge to the FDA
Anti-abortion groups led by the recently formed Alliance for Hippocratic Medicine and four anti-abortion doctors sued the FDA in November.
The FDA has called mifepristone safe and effective as demonstrated over decades of use by millions of Americans, with adverse effects exceedingly rare.
Abortion rights groups praised the Supreme Court's decision on Friday but noted the case is ongoing.
"We're not out of the woods yet," Centre for Reproductive Rights President Nancy Northup said.
The restrictions, if they had taken effect, would have rolled back FDA actions in recent years to make it easier to access mifepristone. Those actions include in 2021 allowing distribution by mail, and in 2016 approving its use up to 10 weeks of pregnancy instead of seven weeks, reducing the dosage required and cutting the number of in-person doctor visits from three to one.
Current drug labels for mifepristone would have had to be adjusted to account for the restored limits on its use in what could have been a months-long process, the Justice Department and Danco had said.
In his dissent, Alito pushed back against that possibility, saying it would not occur "unless the FDA elected to use its enforcement discretion to stop Danco, and the applicants' papers do not provide any reason to believe the FDA would make that choice."
The restrictions also would have suspended the approval of the pill's generic version made by GenBioPro Inc.
Since last year's Supreme Court decision, 12 US states have put in place outright bans while many others prohibit abortion after a certain length of pregnancy. The latest Republican-led move came in Florida, where Governor Ron DeSantis on April 13 signed a law banning most abortions after six weeks of pregnancy.