Russain & Ukrain
https://www.rt.com/russia/580177-ukraine-million-veterans-conflict-minsiter/Ukraine will have 4 million veterans after conflict – minister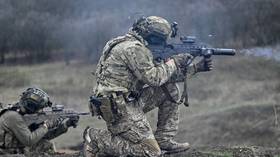 The ongoing hostilities are likely to increase the number of ex-servicemen in the country by eight times, national news outlets have reported
Ukraine is set to see a sharp increase in the number of veterans because of its ongoing conflict with Moscow, according to Yulia Laputina, head of the Ukrainian Veterans Affairs Ministry, a circumstance that some local media outlets fear could severely tax a system that has already faced criticism from a veterans affairs organization.
"We expect the number of such people to be no less than 4 million" by the time the conflict ends, she told journalists this week during a visit to the western Ukrainian city of Lviv. According to the Ukrainian media, the number of veterans registered with the government's electronic database had amounted to around half a million before the conflict with Russia broke out.
Ukraine's Strana news outlet said that this number is likely to increase "by eight times." In early July, some Ukrainian MPs suggested creating a special veteran assistance service to facilitate the reintegration of military personnel into civilian life. Under this plan, assistants would be expected to help veterans access social care, medical services, and education, and also provide them with psychological support, according to media reports. However, the bill has not yet gone through the Ukrainian parliament.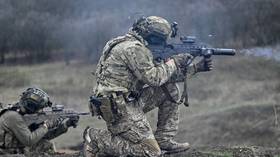 Some Ukrainian media outlets warn that the nation might face an "economic collapse" even if the existing veteran assistance system is kept and the number of veterans only doubles in comparison to what it was prior to the conflict and reaches 1 million.
The government's expenses on veteran assistance skyrocketed in 2022, the news outlet Hromadske reported in late June. Kiev spent 6 billion hryvnas ($160 million) on aid to veterans that year, which was six times more than in 2021. The figure is expected to rise further in 2023.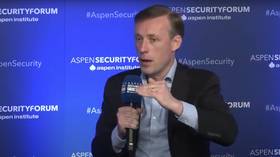 However, according to Ilya Shpolyansky, head of the Veterans' Movement of Ukraine, the money spent on various social benefits for veterans was being wasted. "It is going down the drain, without providing enough financial assistance even for a single veteran!" he told Hromadske.
In late June, Ukraine expanded its general mobilization. Those eligible for military service in certain districts in Kiev, as well as in the western Ukrainian city of Ivano-Frankovsk were required to report to a military recruitment office within ten days, even if they had not received a personal draft notice. At the same time, Ukraine's Chernigov Region reported that it was struggling to meet its mobilization quota.
The developments came amid the much-touted Ukrainian counteroffensive, which has failed to bring about any tangible results nearly two months since it was launched. By attempting to advance through Russian minefields without air support or adequate anti-air weapons, the Ukrainian military has lost 26,000 men and more than 3,000 pieces of hardware, according to the latest figures from Moscow.
You can share this story on social media: