UK Update
Women's World Cup 2023: Spain v Zambia – live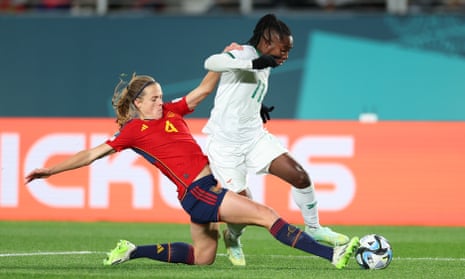 Key events
Kurt Perleberg asks: "Why is Spain so good in women's football?"
Obviously, they are pretty decent. Overall, I think the fact that women's football has been quite a big sport in Spain for longer than other countries, so they have better pathways for players and therefore more of an identity. I might be wrong.
Earlier today …
Tony Mason wants your views: "Early days still in thus WC but Spain and Japan both look good. Against Zambia and Costa Rica I'd like to put a premature claim that Aoba Fujino will be the player of the tournament. The teenager showed skill, strength and precision to score today and looked great against Zambia.
"Any other early shouts out there?"
Half-time: Spain 2-0 Zambia
A very dominant opening 45 minutes from Spain, who will mainly be disappointed that they failed to add to their two early goals. They almost did on the stroke of half-time but Sakala does well to block a close-range shot from Bonmati.
45+4 mins: I would argue that Rodriguez has just picked up a backpass but the officials do not care.
45+2 mins: Andrew Colville offers: "Feels like Barbra Banda is plowing (ploughing) a lonely furrow up front, she's pressing very actively but without much support from her teammates – a Banda apart."
45 mins: Six minutes added on.
43 mins: Barbra Banda runs at Paredes and the Spanish defender dives in to tackle her inside the box. The Zambia forward claims a penalty but it is the perfect challenge. Banda's pace is causing Spain some problems.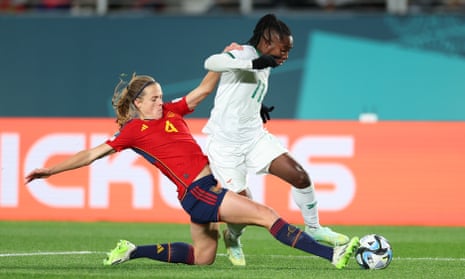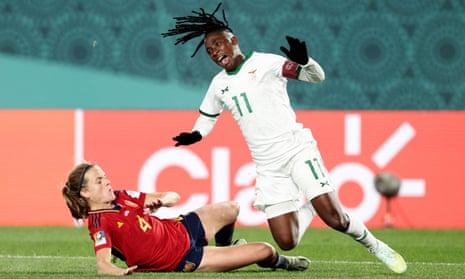 41 mins: Zambia are currently holding their own but I fear how tired they will be in the latter stages.
39 mins: Hermoso has the ball in the back of the net. A pass is lifted over the defence, who are rushing out, and Hermoso takes a touch before slotting home but she is very much offside.
37 mins: It's a double change for Zambia. Wilombe and Chitundu are ready to come on but they are waiting to see if Tembo can recover from getting the ball hit straight at her. She is OK, so it is Susan Banda and Mapepa who go off.
35 mins: Whenever Zambia cross the halfway, the crowd comes alive. Everyone wants them to get back into this.
"Fox Sports American commentators having a lot of fun pronouncing the Spanish players' names in their best Spanish accents," emails Ezra Finkelstein.
I hate to think.
33 mins: Zambia are waiting to make a sub to get back up to 11 players but Spain have maintained possession for a solid two minutes.
31 mins: Carmona lifts the ball into the box, Hermoso chests it down into the path of Bonmati but she drags her shot wide.
Susan Banda is down again and her race is run.
29 mins: Zambia have a free-kick in the corner. Mapepa's deliver is relatively dangerous but it just drifts past the outside post.
27 mins: Zambia attack once more and get the ball to Barbra Banda into the box, she turns Andres but cannot get her shot on target. Spain do need to avoid getting too lax because Barbra Banda can punish them, given the chance.
25 mins: I feel Spain are trying to create the perfect team goal by passing the ball from back to front, including a touch for every player. It is that sort of game.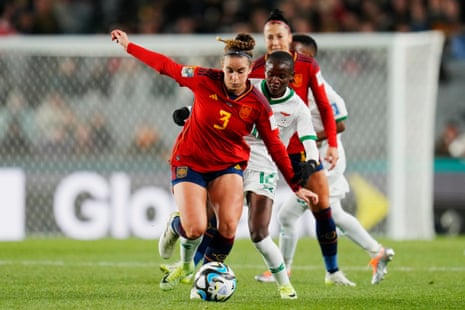 23 mins: Now Barbra Banda is down after getting the ball in her face. She seems fine to continue.
21 mins: Susan Banda hobbles back on. Zambia are working very hard and are winning the ball back through pressing but they lack the quality to keep hold of it and Spain keep coming back at them.
19 mins: Susan Banda is on the deck and needs the physio. She hobbles off to the side and holds her foot. Not ideal for Zambia, who need all their best players on the pitch.
17 mins: Zambia have 10 players inside their defensive third. It really is all hands on deck to keep Spain at bay, even for a few minutes.
15 mins: A Spain victory would see them through to the knockout stages along with Japan, making their final group game a decider for who finishes top.
Spain are starting to play some exhibition stuff; quick passing, flicks and tricks are all coming out.
GOAL! Spain 2-0 Zambia (Hermoso, 13)
The easiest of goals. Putellas darts into the box and lifts a cross over the goalkeeper to the back post where Hermoso is waiting to head home unmarked.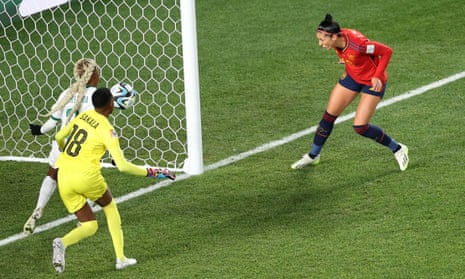 11 mins: It is certainly a question of how many now. Zambia are working as hard as possible but the gulf in class is noticeable.
GOAL! Spain 1-0 Zambia (Abelleira, 9)
It's been coming but what a way to open the scoring. Abelleira receives the ball around 25 yards from goal, she takes a touch to get it out of her feet and rifles a shot into the top corner.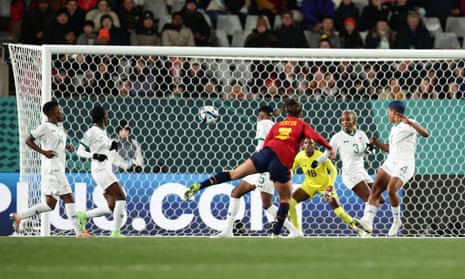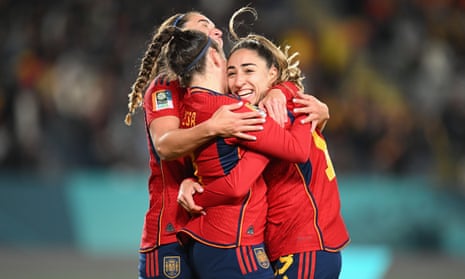 8 mins: Caldentey whacks a cross into the box and Zambia scramble it away.
The ball gets down the other end to Barbra Banda, who drives for the box and manages to get a shot away but it is a weak one and the goalkeeper gobbles it up.
6 mins: Sakala, effectively Zambia's third-choice goalkeeper, dives to punch a cross straight into the path of Paralluelo but she cannot control her shot.
Moments later, Sakala again fails to deal properly with a cross and Zambia get away with it once more.
4 mins: Zambia fail to clear a cross into the box and Putellas picks up the loose ball. She takes a couple of touches and fires off a shot, which is deflected wide. Needless to say, it is all Spain.
2 mins: Spain on the front foot from the off. They look eager to go for the kill and get this match done and dusted.
Peep! Peep! Peep! Here we go!
The lyric-less Spain anthem is pumped out. I enjoyed when they tried to come up with some but decided it wasn't very good.
The teams are in the tunnel …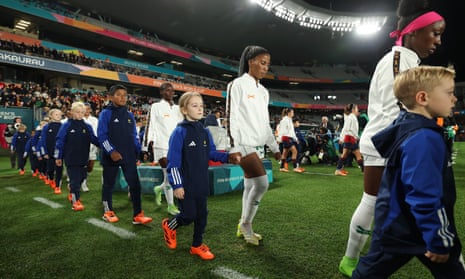 Putellas and Caldentey will be confident of causing problems for Zambia. This is a perfect second match for Spain to build some momentum in the tournament after, as previously mentioned, a tricky buildup.
Could Zambia pull off a shock?
Pre-match reading.
Spain (4-3-3): Rodriguez; Batlle, Paredes, Andres, Carmona; Abelleira, Bonmati, Putellas; Caldentey, Hermoso, Paralluelo
Subs: Salon, Coll, Guerrero, Gonzalez, Hernandez, Codina, Navarro, Perez, Redondo, Galvez, Zornoza, Del Castillo
Zambia (4-3-3): Sakala; Mweemba, Belemu, Tembo, Musesa; S Banda, Katongo, I Lungu; B Banda, Kundananji, Mapepa
Subs: L Lungu, Soko, Mulenga, Wilombe, Lubandji, Selemani, Chanda, Chitundu, E Banda, Phiri
Spain defeated Costa Rica 3-0 in their opening match, while Zambia were given a 5-0 shellacking at the hands of Japan. The result in this match looks beyond doubt already.
The two teams do have something in common: they have both had plenty of off-field issues coming into the tournament. Spain arrive after reintegrating some of the 15 players that previously refused to play under head coach Jorge Vilda but the prospect of a World Cup has brought them back to the well.
Meanwhile many of Zambia's squad have been without pay for two years. Players have previously refused to train because of the failure to pay but they are here and will be looking to bounce back. On Tuesday, journalists were stopped from asking Zambia's coach Bruce Mwape about sexual misconduct allegations against him.
Anyway … time to focus on the pitch.
Kick-off: 8.30am BST.